Website requires javascript to be enabled. If not possible, navigate via the site map.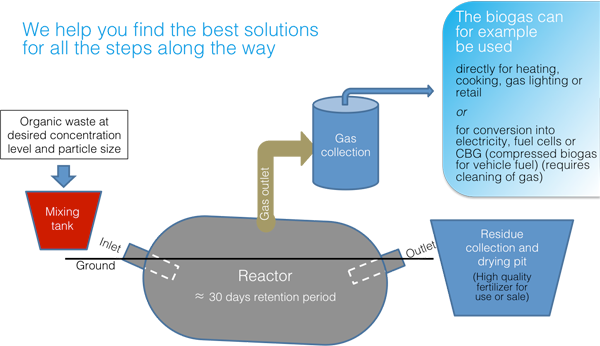 Up and running in as short as
1 day

Receive reactor
Unfold reactor onto prepared ground
Connect piping & fill
Optimally, the reactor is placed in a U-shaped ditch with a depth of 2/3 of the reactor's height – i.e. half a meter to five meters. This makes filling and emptying easier, keeps the temperature in the reactor more stable and enhances protection against rodents and such even further. However, if digging is not possible on the site, it is not required. No matter which, the ground should be prepared with a small inclination from inlet to outlet to help the flow of the substrate.
Receive reactor
Our reactors arrive folded into small, easy-to-handle packages. Their weight varies but can be approximated by their volume – for example, a 100 m3 reactor weighs around 100 kg.
Unfold reactor
The reactor is easily unrolled onto the prepared ground, resting on the walls of the ditch.
Connect piping
After this, the piping is connected. This process involved gluing and clamping and is very easy and quick to do. The pvc pipes for the inlet and outlet should rest upon adjustable stands or in a way where dirt or gravel can raise them up.
Fill reactor
Mere hours since we began, the system is now ready to be filled with the substrate; ready to start turning waste into wealth. It should be filled to around 70 %, which is usually done by pumping in the substrate. This takes a few hours (depending on the flow rate).
This can all be done as quickly as in one day.
We offer the industry-rare service of a demonstration installation. This demo gives you valuable data and knowledge upon which to base your further investment decisions.
Installing or removing a FOV Biogas system is so comparatively quick that banks may consider our reactors to be nearly portable and therefore view the investment as less risky than with traditional reactor designs.
Our reactors need very little additional material
Piping


Glue & silicon

Lining & clamps


Expert support