Website requires javascript to be enabled. If not possible, navigate via the site map.
Clean tech, green development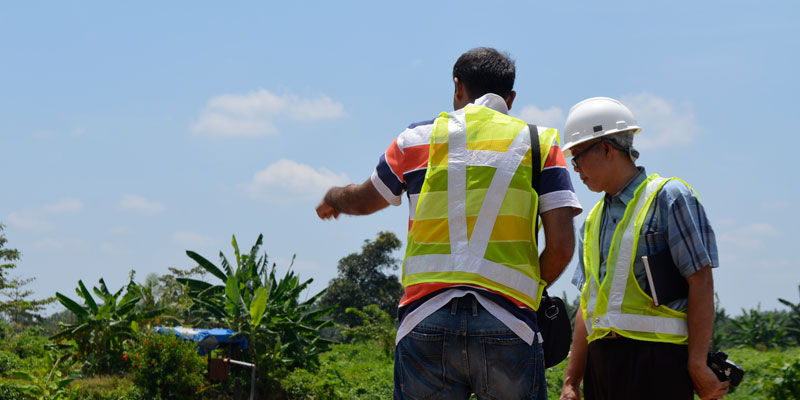 In addition to being reliable investments, our biogas reactors are also important, comprehensive development tools – they can can be utilized in the efforts to achieve almost all of the 17 Sustainable Development Goals that the world has set for itself until 2030. These goals (also known as the Global Goals) were finalized in September 2015, negotiated in the United Nations as successors to the Millennium Development Goals.
The Sustainable Development Goals are crucial for the future of mankind. Hence, they demand solutions of commensurate quality, and FOV Biogas is determined to play our part in what is perhaps the defining challenge of this global transformation: the transition from fossil fuel economy to green society.
In particular, our products directly contribute to countries reaching the following six SDGs:
1.

No poverty

: "End poverty in all its forms everywhere"
(Making decentralized biogas production accessible anywhere unlocks great economic potential as well as means to fulfill essential basic human needs, allowing people to become productive and take jobs for salary rather than for subsistence.)
3.

Good health and well-being

: "Ensure healthy lives and promote well-being for all at all ages"
(Our reactors reduce air pollution both indoors and outdoors. See more below about the health benefits of oyr systems.)

7.

Affordable and clean energy

:

"Ensure access to affordable, reliable, sustainable, and modern energy for all"


(This goal is the very same as our core business idea.)
11.

Sustainable cities and communities

: "Make cities and human settlements inclusive, safe, resilient and sustainable"
(Our systems are far from only rural or industrial – they can just as well be employed in dense city environments.)
12.

Responsible consumption and production

: "Ensure sustainable consumption and production patterns"
(Three words: waste to energy.)

13.

Climate action

:

"Take urgent action to combat climate change and its impacts"


(Our renewable energy technology makes methane emissions productive. See more about preventing dangerous climate change below.)
Of these six, we focus below on the two that are highlighted in green: Climate action and Good health and well-being. Before that, however, it should be noted that our biogas reactors indirectly contribute to at least five more of the SDGs:
2.

Zero hunger

: "End hunger, achieve food security and improved nutrition, and promote sustainable agriculture"
8.

Decent work and economic growth

: "Promote sustained, inclusive and sustainable economic growth, full and productive employment and decent work for all"
9.

Industry, innovation and infrastructure

: "Build resilient infrastructure, promote inclusive and sustainable industrialization and foster innovation"
10.

Reduced inequalities

: "Reduce inequality within and among countries"
15.

Life on land

: "Protect, restore and promote sustainable use of terrestrial ecosystems, sustainably manage forests, combat desertification, and halt and reverse land degradation and halt biodiversity loss"
Tackling climate change, improving health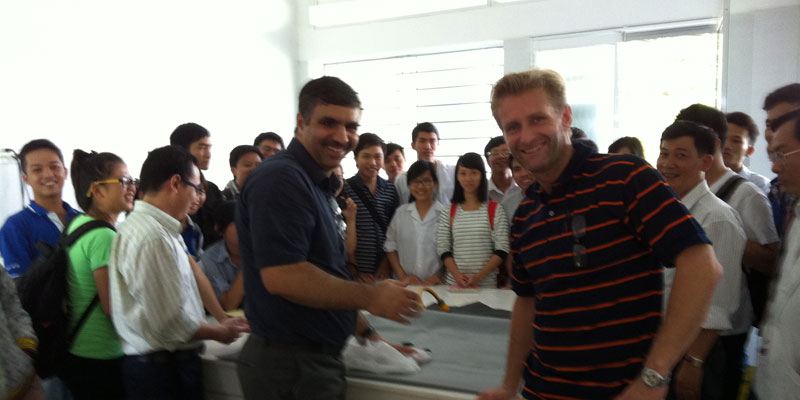 Enabling substantial biofuel cleantech climate action
Climate change is no longer an environmental issue – it is a social, political and economic issue, and, most of all, an issue of development. FOV Biogas helps tackle this challenge in at least two ways: (1) replacement of fossil fuel with renewable energy and (2) making methane released from organic waste utilizable for energy production (rather than releasing it into the atmosphere, where it traps 72 times more heat than carbon dioxide over the first 20 years – even though the methane content of the atmosphere is lower than the carbon content, this fact makes the so-called short-lived greenhouse gas methane a key problem to tackle simultaneously as carbon emissions are brought down. Burning methane – biogas, in essence – sees to it that the greenhouse gas emissions from the process in question are carbon dioxide rather than methane, thus lowering the climate footprint substantially.
To reduce the risk of unmanageable climate change, there is widespread political agreement global to limit average global temperature rise to 2°C above pre-industrial levels. To achieve this target, about one third of the known oil reserves, half of natural gas reserves, and over 80% of the coal reserves should not be burned (sources: article in Nature) – all in all, that makes for around three fourths to four fifths of known fossil fuel reserves (the value of which thereby currently are overestimated, making investments in fossil fuels increasingly risky.)
The cleantech provided by FOV biogas helps humanity keep those dirty fuels in the ground while simultaneously achieving many co-benefits, as seen above and below. In short, our solutions make Sustainable Development Goal 13 – Climate action – closer to reach.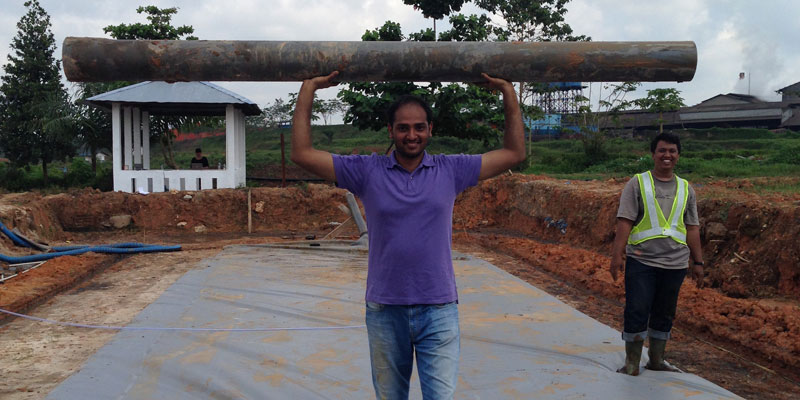 FOV Biogas – making the world healthier
Apart from all the health benefits that accrue from increasing energy security and reducing poverty in general, our reactors also contribute to combat one of the largest killers in the world: air pollution. Millions of lives and livelihoods are destroyed each year due to bad air. For example, just living in some cities in China is the equivalent of smoking 40 cigarettes a day. This results in 4000 premature deaths every year just in China – and for example India is even worse (source: Lord Stern lecture, Oxford, 2015). Reliable, profitable and clean energy generation such as the biogas we help people produce all over the world are therefore in dire demand
In most cases, air pollution is the direct result of the extraction and combustion of fossil fuels: Our vehicles spew out dangerous amounts of pollution every day, unnecessarily – they could be running on biogas instead – and coal mining (and tar sands extraction) spreads dangerous particles far and wide, equally unnecessarily – we could be "mining" our waste instead, producing biogas.
Burning oil and natural gas drive climate change, which risks becoming the greatest human health threat of them all, with increased deaths from heatwaves, insect-borne diseases, extreme weather (please note here that our systems quickly can be deployed to get energy production back online after catastrophes), freshwater contamination as sea levels rise, and crop failure, to mention a few, as well as increased risk of conflicts. Our versatile, accessible, and decentralized biogas reactors help reduce all of these risks.
Burning coal is even worse. Not only does doing so release dangerous particles and climate-altering carbon dioxide in unparalleled levels – it also produces black soot that speeds up climate change by decreasing the amount of sunlight reflected back out from Earth's atmosphere and surface. By using our reactors for your energy production, then, you become a progressive partner in this century's defining struggles as well as make a tidy profit.
Outdoor air pollution is one thing, indoor air pollution another. The indoor cooking and heating by burning solid fuels such as coal, charcoal, dung, wood and crop wastes indoor burning of is one of the biggest health hazards of them all, especially in poorly ventilated dwellings such as small, crowded houses and huts (source: WHO). Constituting a very real obstacle to development, it is simultaneously simple to avoid – but only if resources are put to it, tragically. For example, biogas burns cleanly, producing only water vapor and carbon dioxide. By making biogas more accessible and affordable for communities, we are proud to offer a way of eliminating this problem.
Overall, it is safe to say that the solutions offered by FOV Biogas can go a long way in communities', countries' and the world's struggle to reach Sustainable Development Goal 3 – Good health and well-being.